4 January 2022
Physicians for Informed Consent Updates Its Pfizer-BioNTech COVID-19 Vaccine Risk Statement for Healthcare Providers and Families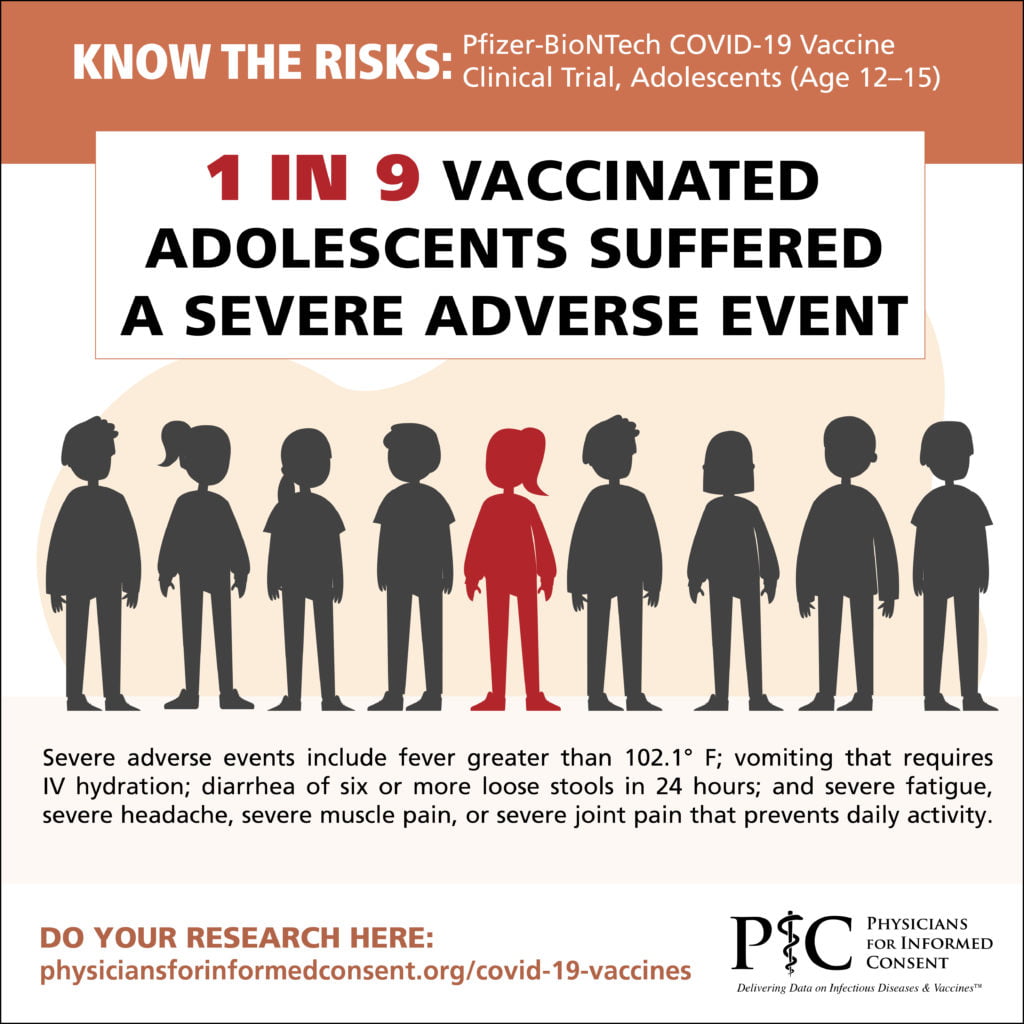 Educational document highlights Pfizer clinical trial finding that 1 in 9 vaccinated adolescents suffered a severe adverse event
NEWPORT BEACH, CALIF. (PRWEB) JUNE 8, 2021
Physicians for Informed Consent (PIC), an educational nonprofit organization focused on science and statistics, recently published an update of its Pfizer-BioNTech COVID-19 Vaccine Risk Statement, which includes key questions and answers about the clinical trial data. The Pfizer COVID-19 vaccine is the first COVID-19 vaccine to receive expanded emergency use authorization (EUA) for adolescents; however, the vaccine is still not FDA-approved.
The PIC Pfizer-BioNTech COVID-19 Vaccine Risk Statement (VRS) answers important questions such as:
How effective is the vaccine in children, adults, and the elderly?
Is the vaccine effective in preventing hospitalizations and deaths?
Is the vaccine effective and safer than the COVID-19 virus?
Does the vaccine prevent the spread of the virus?
The updated document indicates that for children 12 to 15 years of age, the Pfizer COVID-19 vaccine clinical trial found the overall incidence of severe adverse events during the two-month observation period to be 10.7% or 1 in 9 in the vaccinated group. In addition, the incidence of COVID-19 in the unvaccinated group was 1.6%; therefore, there were almost seven times more severe adverse events observed in the vaccinated group than there were COVID-19 cases in the unvaccinated group.
Furthermore, since only about 1,100 vaccinated children 12 to 15 years of age were observed in the clinical trial, there were not enough children included in the trial to be able to prove the vaccine is safer than the disease in children 12 to 15 years of age. The chance of a child 0 to 17 years of age contracting SARS-CoV-2 and dying from COVID-19 is 1 in 290,000.
Anyone considering the COVID-19 vaccine must be informed of known and potential benefits and risks, and the extent to which benefits and risks are unknown. For example, the clinical trial did not have enough statistical power to measure the vaccine's ability to prevent hospitalizations and deaths, and did not assess if the vaccine prevents asymptomatic infection or spread (transmission) of the virus.
"PIC is committed to making the available data more accessible to everyone researching COVID-19 vaccines," said Dr. Shira Miller, PIC founder and president. "Our concise, reader-friendly document assists healthcare providers and parents in making informed decisions for the children in their care."
Physicians for Informed Consent's body of physicians, scientists, statisticians and healthcare workers is trusted by both patients and practitioners for providing scientific data on infectious diseases and vaccines. To download your copy of the VRS "Pfizer-BioNTech COVID-19 Vaccine: Short-Term Efficacy & Safety Data," visit physiciansforinformedconsent.org/COVID-19-vaccines.